Tutorial : Letak Cbox Dalam Blogskin
Hey guys. Kali ni Hani nak update tutorial baru memandangkan page tutor hani tu baru ada dua link tutor je. Hahahahahha. Sebenarnya boleh je hani nak update tapi disebabkan terlalu busy and malas nak On laptop so macam tutor blog langsung tak berjalan la kan cerite dia. Kali ni hani nak ajar korang macam mana nak letak kotak cbox kat tepi blog hani ni . Alaaaaa, yang macam ruang chat kat tepi ni hah ! And tanpa membuang masa jom kita start !!
1. Firstly korang kena SIGN IN Cbox dulu ye > Click Link CBOX ni
Kalau korang dah ada account korang boleh terus sign in je tapi kalau belom ada account so korang kena la pandai pandai daftar dulu ye. Tekan je SIGN UP and korang isi la segala apa maklumat yang dia nak tu. Then lepas dah isi korang boleh sign macam biasa dah. Aah acah macam dah jadi ahli club CBOX la konon. Gitchuuuuuu.
2. Lepas korang dah SIGN IN korng boleh terus masuk then click Look & FEEL dan click COlour and Font macam contoh kat bawah ni hah

.
3. Lepas tekan tu dia akan kuar macam ni . So korang boleh la start pilih kaler apa yang korang suka for colour background CBOX or Fonts korang. Btw sorry sebab hani amik contoh gambar ni kat blog orang sebab takreti nak cari macam mana yee . HAHAHAHAH. Lepas je korang dah pilih terus tekan apply and save !
4. Then lepas dah save korang klik PUBLISH! kat atas tu. Then korang scroll bawah sikit dan akan jumpa ayat copy clipboard. Korang nampak kan ayat pelik amende ntah dalam kotak tu. Korang Copy all ayat tu. Jangan tinggalkan walaupon satu huruf pon tauuuu. Kalau tak silap ayat akhir dia END CBOX! Arghhh nak senang just klik je coppy clipboard tu and dia otometik copy all.
5. Lepas dah copy korang bukak new tab and pegi kat dashboard blog korang. Biasanya sape guna blogkin memang sah sah dia akan ada satu kotak cbox kat tepi tu macam contoh kat bawah ni hah . So, kerja korang lagi mudah la. Korang pegi je kat template tu then tekan CTRL+F *makae sure tekan serentak eh then dia akan kuar kotak kecik kat atas. Hani bagi contoh berdasarkan gambar hani letak kat bawah sbb nak bagi korang faham . Lepas kuar kotak kecik kat atas tu korang type je ayat Kiyowo sebab kita nak letak cbox kita kat situ . so, lepas dah tulis ayat kijowo dalam kotak kecik tu dia akan highlight ayat yang korang cari kat template tu an ? Then korang just paste je balik code yang korang copy dari clipboard cbox tadi kat bawah ayat Kijowo tu. And kalau ayat kijowo tu pon korang nak tukr kepada kornag punya ayat sendiri pon boleh . Takde masalah. Just delete ayat kijowo and tulis your own words but jangan kacau or delete code code lain selain daripada ayat kijowo or yang korang rasa nak tukar tu sebab nanti blog korang jadi pelik oh . Bak kata pepatah ahli ahli bloggers, kerana code sehuruf abis rosak seluruh blog . hahahaha suka hati je buat pepatah sediri . Lepas dah paste jangan lupa save ye uols.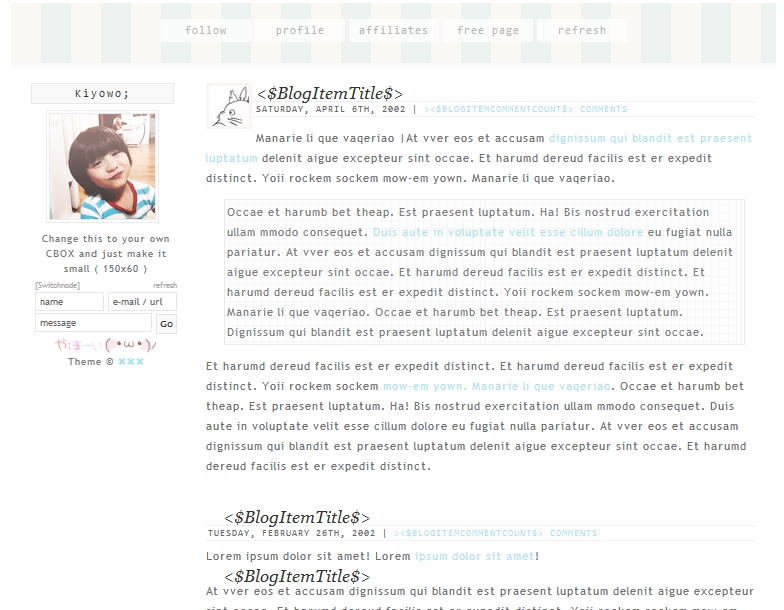 Kalau takpaham boleh tanya hani ye sebab hani menaip untuk buat tutor ni dalam keadaan mata bengkak and sakit kepala. So, agak agak ada benda takpaham boleh tnya hani secara personal . Insyallah hani tolong permudahkan kerja korang . By the way , GOODLUCK !
OLDER POST | NEWER POST